Introduction:
Menopur 75 is a combination of FSH and LH hormones integral to ovarian health. Menopur 75 is a mixture of gonadotropins. Menopur can stimulate the development of multiple eggs which is helpful for technologies such as IVF.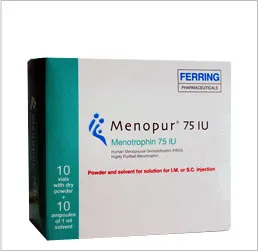 Menopur 75 Packaging & Pricing:
One package of Menopur 75 medication which includes 10 vials of medication runs at $349.00 on IVFPrescription.com's 50-70% discounted pharmacy online. This sets Menopur 75 Price at $34.90 per injection. Menopur 75 Cheapest Price is found on sites such as IVFPrescriptions.com where medications are ordered in massive quantities, and then provided to customers at a discounted price. The more units that are ordered, the cheaper the price. IVFPrescriptions.com orders these medications in mass quantity, then passes that savings on to you as the customer.
IVF Prescriptions.com provides this incredible discount to help individuals start their families, all while requiring a prescription to ensure that the patient is only receiving medications they have a prescription to receive. This ensures that harmful mixes of IVF drugs are not being administered to the patient that can cause unnecessary side-effects that can damage the patient's health. IVFPrescriptions.com does that because we care about you, your health, your well-being, and helping you avoid unnecessary problems while using our IVF treatment products.
Menopur 75 Side-Effects:
Menopur 75 can have some side effects when used in conjunction with other IVF medications. Menopur 75 can also have a few undesirable side-effects when taken on its own as well. The basic side effects most often experienced are non-life-threatening conditions such as mild stomach pain, headaches, bloating, pain at injection site, and slight dizziness. Even more rarely, symptoms can escalate to mild conditions like fevers, chills, flu-like symptoms, joint pain, weakness, slurred speech, swelling in the legs, impaired vision, chest pain, or hypertension syndrome. If you experience any of these side-effects, please see your doctor immediately for treatment. The rarest symptoms can be considered life-threatening. These symptoms include severe lower abdominal pain, rapid weight gain, uncontrollable vomiting, and unusual changes in urination patterns. These are the most serious side-effects. Seek emergency medical care immediately if you experience any of these symptoms.